FPE Fantasy Scarification Face Tattoos Geoshell for Genesis 8.1 Males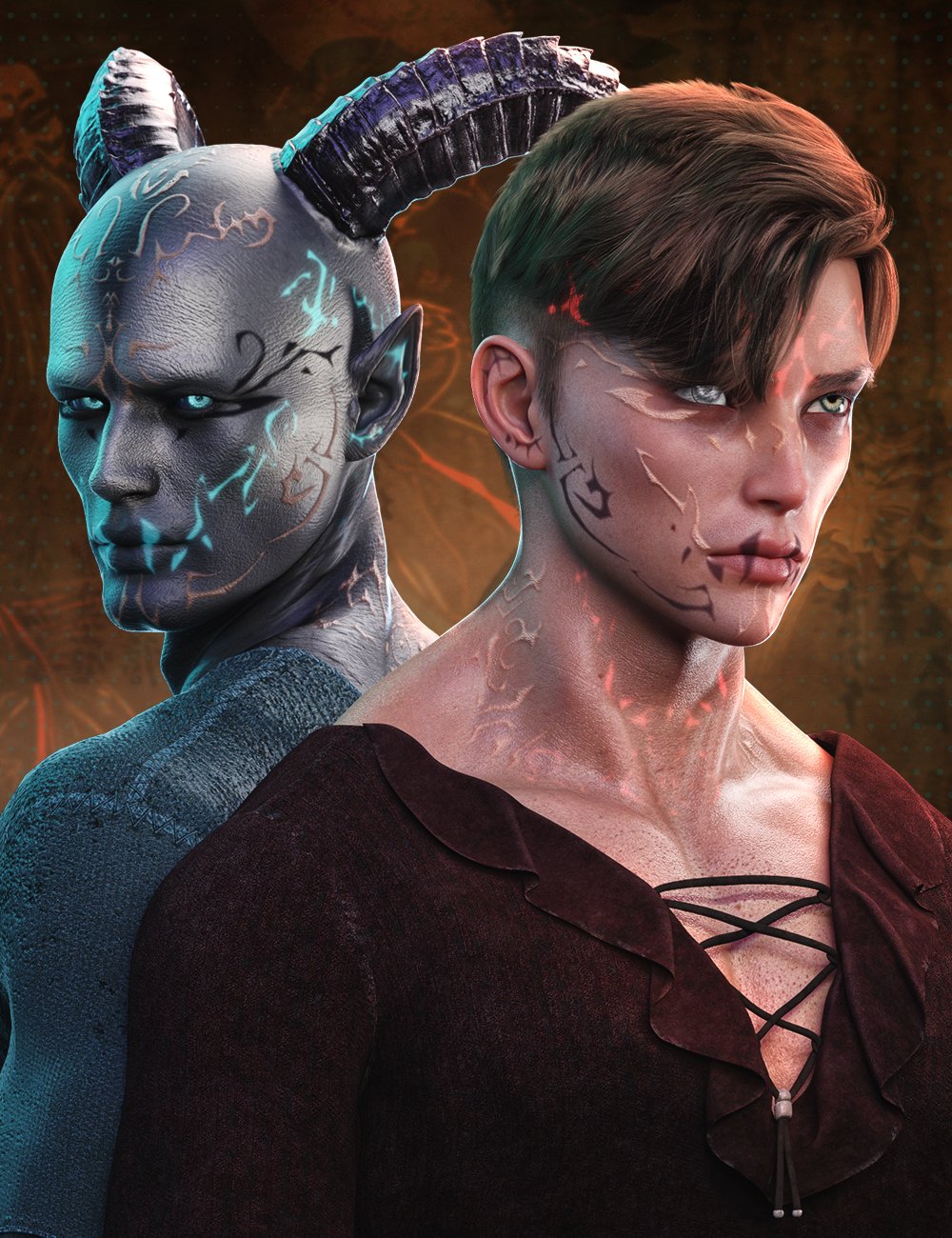 FPE Fantasy Scarification Face Tattoos Geoshell for Genesis 8.1 Males consists of rune-styled tattoos applied via 3 geoshells, each providing a different effect: as ink, as glow, and as scars.
By setting things up to apply via geoshells, we not only ensure the final look of the application is maintained regardless of whether your character uses Iray Uber or PBRShader skin, but we also create a non-destructive way of applying said tattoos. The versatility of geoshells allows you to, quickly and efficiently, build, change, tweak, and/or delete the tattoos without affecting or altering your character's underlying skin.
And while the geoshells require Genesis 8.1 Base Male UVs, you can apply these to your Genesis 8 characters by loading/applying them to the Genesis 8.1 Base. Instructions on how to do this have been included!
This pack is meant to match the Genesis 9 one as closely as possible since some details were altered to compensate for the difference in density between the surfaces.
Each geoshell comes with several material presets (13 in total) and 16 partial material and property presets (utility presets) to help you refine the look. Of course, since these are applied via geoshells, we've also included instructions on what channels to change if you wish to venture out and manually tweak the look (as shown in the last two promos).
The tattoos are applied via the Layered Image Editor (LIE) presets and will work on all geoshells. Each LIE applies a mask on the cutout opacity channel, which makes for a fast application. There are 19 different masks (10 also have a mirror version), making it 29 tattoos. We've also assembled 5 pre-combined designs for ease of use and application. This brings the pack to a total of 35 LIE presets.
Combine and stack the geoshells of the FPE Fantasy Scarification Face Tattoos to give your Genesis 8.1 Male characters a unique look. We also hope this pack will work as a storytelling tool in your arsenal. Perhaps your character is a sorcerer using these magic runes to channel his power? Or maybe he fell into the hands of an enemy and was left branded? Or perhaps they come from a future wherein implants are what's in fashion? Whatever scenario you envisioned, we hope this pack will help you tell your story!
FPE Fantasy Scarification Face Tattoos Geoshell for Genesis 8.1 Males: (.DUF)
Geoshells:
FPE FFSTM Glow 01 Apply Shell
FPE FFSTM Ink 01 Apply Shell
FPE FFSTM Scar 01 Apply Shell
Properties Presets:
FPE FFSTM Glow 02.2 Offset Below Skin Deep
FPE FFSTM Glow 02.2 Offset Below Skin Shallow
FPE FFSTM Glow 02.2 Offset Below Skin
FPE FFSTM Glow 02.2 Offset Floating
FPE FFSTM Glow 02.2 Offset On Skin
Layered Image Editor (LIE) Presets:
FPE FFSTM 03 LIE Cheek Left
FPE FFSTM 03 LIE Cheek Right
FPE FFSTM 03 LIE Chin
FPE FFSTM 03 LIE Ear Behind Left
FPE FFSTM 03 LIE Ear Behind Right
FPE FFSTM 03 LIE Ear Left
FPE FFSTM 03 LIE Ear Right
FPE FFSTM 03 LIE Forehead Center
FPE FFSTM 03 LIE Forehead Side Left
FPE FFSTM 03 LIE Forehead Side Right
FPE FFSTM 03 LIE Forehead Upper
FPE FFSTM 03 LIE Head Center
FPE FFSTM 03 LIE Head Side Left
FPE FFSTM 03 LIE Head Side Right
FPE FFSTM 03 LIE Jaw Left
FPE FFSTM 03 LIE Jaw Right
FPE FFSTM 03 LIE Lips
FPE FFSTM 03 LIE Lips 02
FPE FFSTM 03 LIE Neck Back
FPE FFSTM 03 LIE Neck Front
FPE FFSTM 03 LIE Neck Side Left
FPE FFSTM 03 LIE Neck Side Right
FPE FFSTM 03 LIE Neck Upper Left
FPE FFSTM 03 LIE Neck Upper Right
FPE FFSTM 03 LIE Nose
FPE FFSTM 03 LIE Temple Left
FPE FFSTM 03 LIE Temple Right
FPE FFSTM 03.2 LIE All
FPE FFSTM 03.2 LIE Crown
FPE FFSTM 03.2 LIE Face Lower
FPE FFSTM 03.2 LIE Mouth
FPE FFSTM 03.2 LIE Necklace
Material Options:
FPE FFSTM Glow 02 MAT Aqua
FPE FFSTM Glow 02 MAT Blue
FPE FFSTM Glow 02 MAT Green
FPE FFSTM Glow 02 MAT Purple
FPE FFSTM Glow 02 MAT Red
FPE FFSTM Glow 02 MAT White
FPE FFSTM Glow 02 MAT Yellow
FPE FFSTM Ink 02 MAT Fresh
FPE FFSTM Ink 02 MAT Old Faded
FPE FFSTM Ink 02 MAT Old
FPE FFSTM Scar 02 MAT Dark Skin
FPE FFSTM Scar 02 MAT Midtone Skin
FPE FFSTM Scar 02 MAT Light Skin
FPE FFSTM Glow 02.3 Emission High
FPE FFSTM Glow 02.3 Emission Low
FPE FFSTM Glow 02.3 Emission Med
FPE FFSTM Scar 02.2 Displacement OFF
FPE FFSTM Scar 02.2 Displacement ON
FPE FFSTM Scar 02.3 Translucency Default
FPE FFSTM Scar 02.3 Translucency High
FPE FFSTM Scar 02.3 Translucency Low
FPE FFSTM Scar 02.4 Intensity Full
FPE FFSTM Scar 02.4 Intensity Low
FPE FFSTM Scar 02.4 Intensity Med
FPE FFSTM 04 Clear LIE
Textures Include:
43 Texture, Emissive, Height, Normal, Roughness, Specular, and Transparency Maps (4096 x 4096)
Daz Studio Iray Material Presets (.DUF)
---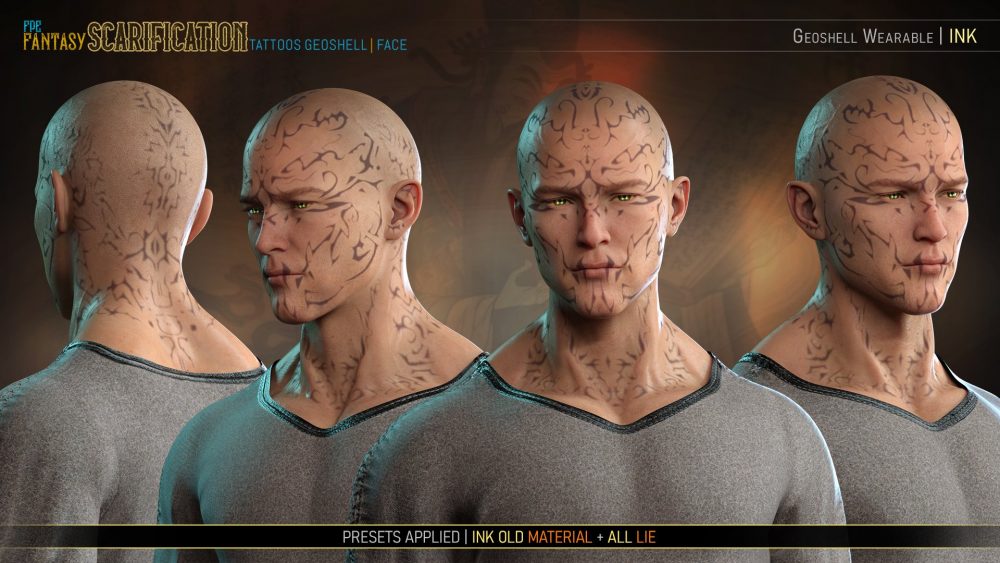 Download from QtyFiles Service
---