Zero Two Training Customize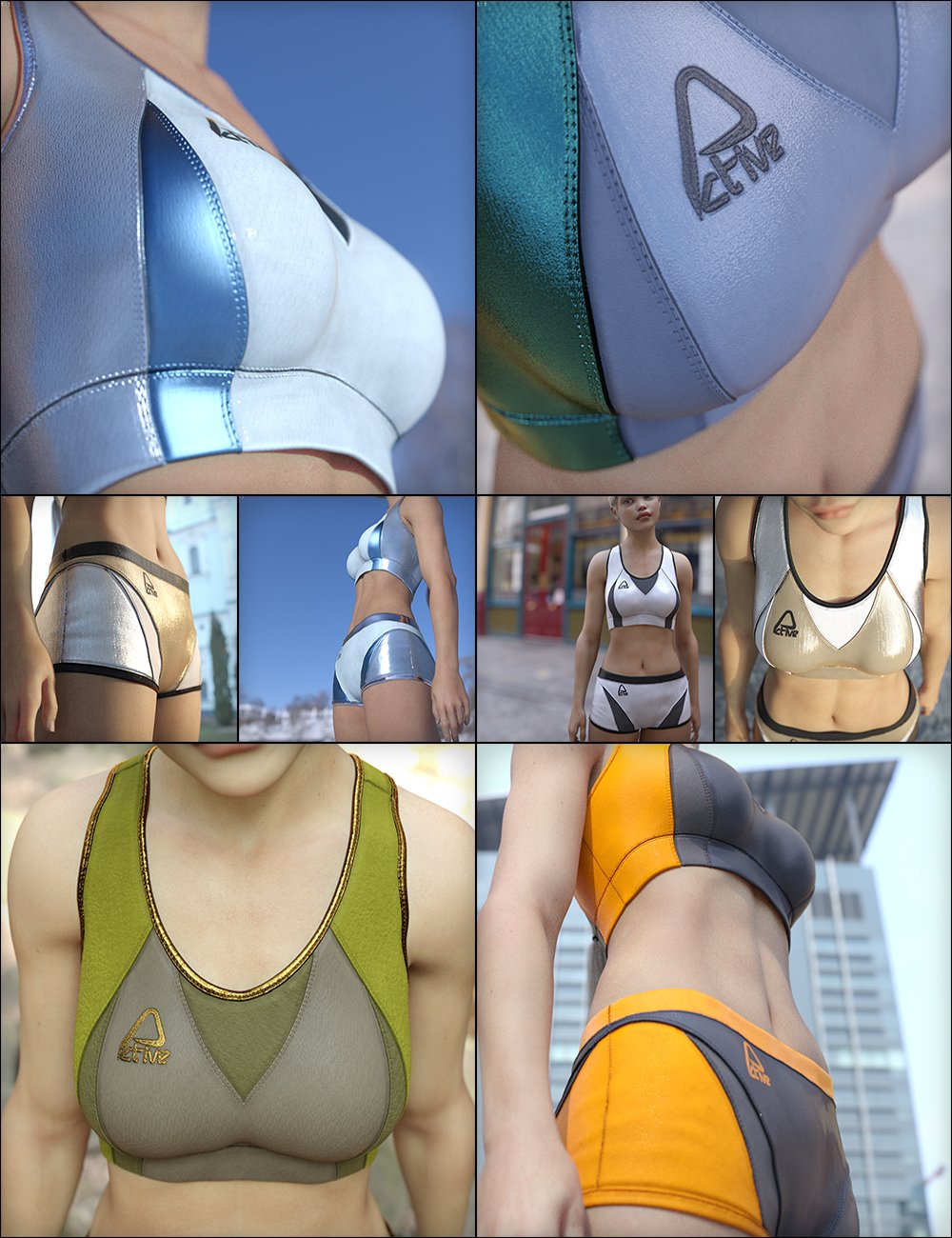 Training Customize is a complete and fun customization kit for the Training Sports Bra and Shorts from the Zero Two clothing package.
This kit allows you to fully customize the featured style for thousands of unique looks.
As usual with our customization kits, several presets (16 premade styles) are included to get you started or just to be used as is.
This style makes use of Daz Studio's 4-layer shader and includes 4 different texturable layers that can be customized by fabric, color, metalness, and shininess, as well as 5 additional layer mask combinations that help create completely different looks while using the same settings.
Soft opacity and strong opacity settings are also included in 10 combinations each for additional customizability.
Moreover, 3 dirt options (light, medium, and heavy) are available for the sports bra, shorts, thermal top, and thermal thighs.
Customization Training
Read Me + Instructions
Fabric Dirt
Heavy
Jersey Ribs Dirt Heavy
Jersey Slub Dirt Heavy
Performance Dirt Heavy
Polyester Dirt Heavy
Spandex Hexagon Dirt Heavy
Spandex Dirt Heavy
Synthetic Dirt Heavy
Light
Jersey Ribs Dirt Light
Jersey Slub Dirt Light
Performance Dirt Light
Polyester Dirt Light
Spandex Hexagon Dirt Light
Spandex Dirt Light
Synthetic Dirt Light
Medium
Jersey Ribs Dirt Medium
Jersey Slub Dirt Medium
Performance Dirt Medium
Polyester Dirt Medium
Spandex Hexagon Dirt Medium
Spandex Dirt Medium
Synthetic Dirt Medium
Fabric Styles
Jersey Ribs Dirt
Jersey Slub Dirt
Performance Dirt
Polyester Dirt
Spandex Hexagon
Spandex
Synthetic
Borders and Logo
Bump
Very Light
Light
Mid
Strong
Vert Strong
Colors
85 preset colors
Metallicity
Very Strong
Strong
Mid
Soft
Very Soft
Shininess
Very High
High
Mid
Soft
Front
Bump
Very Light
Light
Mid
Strong
Vert Strong
Colors
85 preset colors
Metallicity
Very Strong
Strong
Mid
Soft
Very Soft
Shininess
Very High
High
Mid
Soft
Inserts
Bump
Very Light
Light
Mid
Strong
Vert Strong
Colors
85 preset colors
Metallicity
Very Strong
Strong
Mid
Soft
Very Soft
Shininess
Very High
High
Mid
Soft
Sides
Bump
Very Light
Light
Mid
Strong
Vert Strong
Colors
85 preset colors
Metallicity
Very Strong
Strong
Mid
Soft
Very Soft
Shininess
Very High
High
Mid
Soft
Mask Styles
Main Style
Style 01
Style 02
Style 03
Style 04
Style 05
Transparencies
Soft 01
Strong 01
Soft 02
Strong 02
Soft 03
Strong 03
Soft 04
Strong 04
Soft 05
Strong 05
Soft 06
Strong 06
Soft 07
Strong 07
Soft 08
Strong 08
Soft 09
Strong 09
Soft 10
Strong 10
Fabric Dirt Reset
Heavy
Jersey Ribs Dirt Heavy
Jersey Slub Dirt Heavy
Performance Dirt Heavy
Polyester Dirt Heavy
Spandex Hexagon Dirt Heavy
Spandex Dirt Heavy
Synthetic Dirt Heavy
Light
Jersey Ribs Dirt Light
Jersey Slub Dirt Light
Performance Dirt Light
Polyester Dirt Light
Spandex Hexagon Dirt Light
Spandex Dirt Light
Synthetic Dirt Light
Medium
Jersey Ribs Dirt Medium
Jersey Slub Dirt Medium
Performance Dirt Medium
Polyester Dirt Medium
Spandex Hexagon Dirt Medium
Spandex Dirt Medium
Synthetic Dirt Medium
Fabric Style Reset
Jersey Ribs Dirt
Jersey Slub Dirt
Performance Dirt
Polyester Dirt
Spandex Hexagon
Spandex
Synthetic
Thermal Options
Cotton Dirt Light
Cotton Dirt Medium
Cotton Dirt Heavy
Cotton
Spandex Hexagon
Spandex Jaquard
Ready to go presets
Bright Alternate
Camo
Challenger
Charming
Chick
Conscious Competitor
Cozy Cappuccino
Deep Forest
Flowery
Gaia
Gold and Silver
Icy Land
Retro Metal
Stylish Monochrome
Uderconstruction
Unicorn
Textures Include:
239 Textures, Glossy, Height, Normal, Opacity, Roughness, Metalness Map files (4096 x 4096)
Daz Studio Iray Material Presets (.duf)
---

Download from QtyFiles Service
---