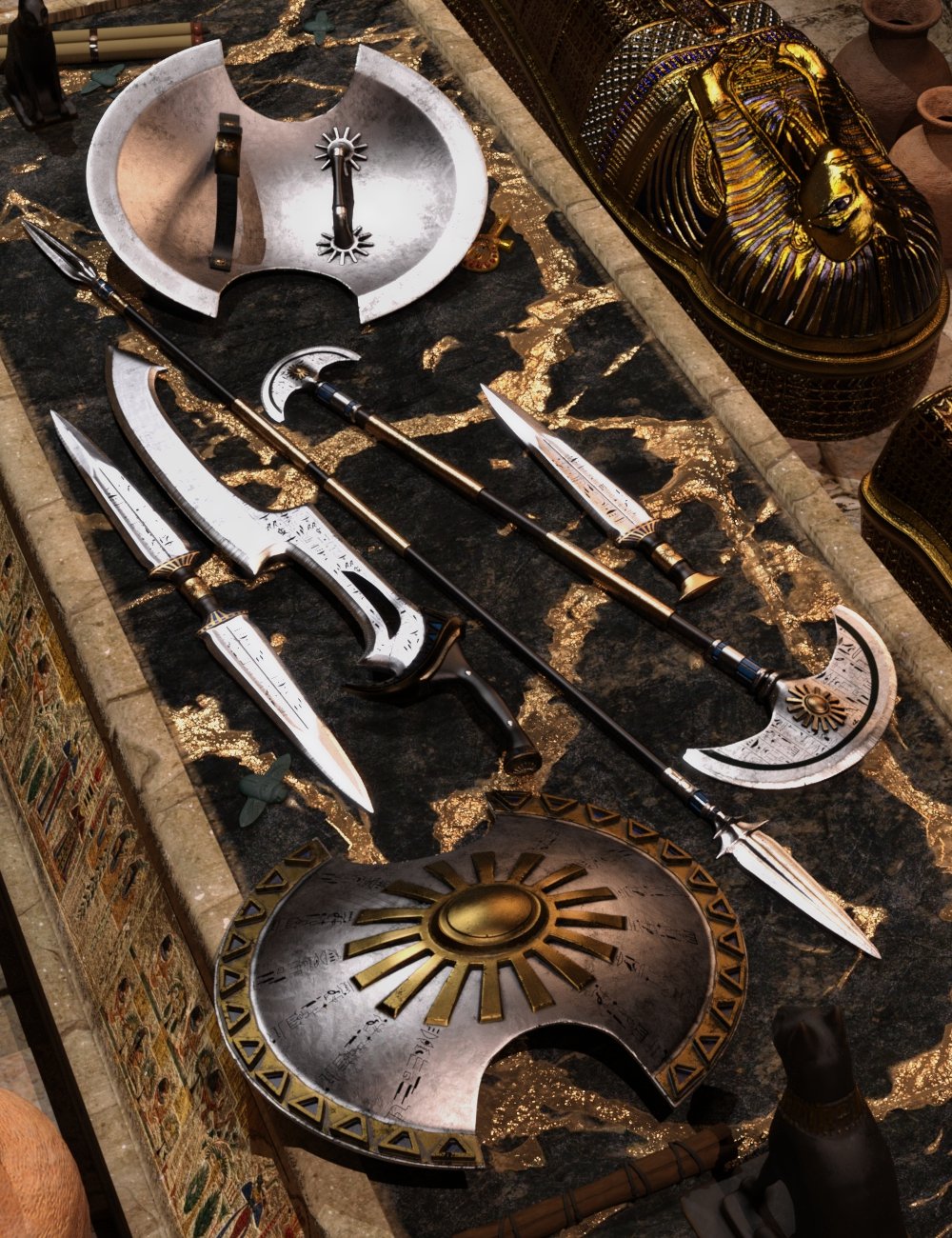 So it is written, so it is done…
Introducing The Aten Weapons Collection!
The Aten Weapons Collection includes Sword, Dagger, DoubleDagger, Axe, Spear, and Shield. These lethal props are finely forged, sculpted, and textured in the tradition of Historical Fantasy, with attention to detail.
Discovered among the artifacts in the tomb of the Pharoah Akhenaten and Queen Nefertiti, these weapons are believed to have been his personal arms used in conquests during their reign in the 18th Dynasty. Their style and craftmanship pay homage to the Sun-god, Aten, who he worshipped as the supreme deity of Egypt.
Add an exotic and dangerous element to your characters and scenes with the Aten Weapons Collection!
Aten Weapons Collection (.DUF)
Aten Axe
Aten Dagger
Aten Double Dagger
Aten Shield
Aten Spear
Aten Weapons Collection (.DUF)
Aten Axe
Aten Dagger
Aten Double Dagger
Aten Shield
Aten Spear
Aten Sword
Smart Props
Aten Axe Female RT
Aten Axe Male RT
Aten Dagger Female LT
Aten Dagger Male LT
Aten Double Dagger Female RT
Aten Double Dagger Male RT
Aten Shield Female LT
Aten Shield Male LT
Aten Spear Female RT
Aten Spear Male RT
Aten Sword Female RT
Aten Sword Male RT
Hierarchical Hand Poses
Aten Axe Female RT
Aten Axe Male RT
Aten Dagger Female LT
Aten Dagger Male LT
Aten Double Dagger Female RT
Aten Double Dagger Male RT
Aten Shield Female LT
Aten Shield Male LT
Aten Spear Female RT
Aten Spear Male RT
Aten Sword Female RT
Aten Sword Male RT
Material Options
Aten Axe Sundisk Off
Aten Axe Sundisk On
Aten Axe Onyx
Aten Axe Amethyst
Aten Axe Garnet
Aten Axe Jade
Aten Axe Gold
Aten Axe Turquoise
Aten Axe Lapis
Aten Dagger Sundisk Off
Aten Dagger Sundisk On
Aten Dagger Onyx
Aten Dagger Amethyst
Aten Dagger Garnet
Aten Dagger Jade
Aten Dagger Gold
Aten Dagger Turquoise
Aten Dagger Lapis
Aten Double Dagger Sundisk Off
Aten Dagger Dagger Sundisk On
Aten Dagger Dagger Onyx
Aten Dagger Dagger Amethyst
Aten Dagger Dagger Garnet
Aten Dagger Dagger Jade
Aten Dagger Dagger Gold
Aten Dagger Dagger Turquoise
Aten Dagger Dagger Lapis
Aten Shield Sundisk Off
Aten Shield Sundisk On
Aten Shield Onyx
Aten Shield Amethyst
Aten Shield Garnet
Aten Shield Jade
Aten Shield Gold
Aten Shield Turquoise
Aten Shield Lapis
Aten Spear Onyx
Aten Spear Amethyst
Aten Spear Garnet
Aten Spear Jade
Aten Spear Gold
Aten Spear Turquoise
Aten Spear Lapis
Aten Sword Sundisk Off
Aten Sword Sundisk On
Aten Sword Onyx
Aten Sword Amethyst
Aten Sword Garnet
Aten Sword Jade
Aten Sword Gold
Aten Sword Turquoise
Aten Sword Lapis
Textures Include:
78 Texture, Bump, Displacement, Metallic, and Normal Maps (4096 x 4096)
Daz Studio Iray Material Presets (.DUF)
Aten Sword
Smart Props
Aten Axe Female RT
Aten Axe Male RT
Aten Dagger Female LT
Aten Dagger Male LT
Aten Double Dagger Female RT
Aten Double Dagger Male RT
Aten Shield Female LT
Aten Shield Male LT
Aten Spear Female RT
Aten Spear Male RT
Aten Sword Female RT
Aten Sword Male RT
Hierarchical Hand Poses
Aten Axe Female RT
Aten Axe Male RT
Aten Dagger Female LT
Aten Dagger Male LT
Aten Double Dagger Female RT
Aten Double Dagger Male RT
Aten Shield Female LT
Aten Shield Male LT
Aten Spear Female RT
Aten Spear Male RT
Aten Sword Female RT
Aten Sword Male RT
Material Options
Aten Axe Sundisk Off
Aten Axe Sundisk On
Aten Axe Onyx
Aten Axe Amethyst
Aten Axe Garnet
Aten Axe Jade
Aten Axe Gold
Aten Axe Turquoise
Aten Axe Lapis
Aten Dagger Sundisk Off
Aten Dagger Sundisk On
Aten Dagger Onyx
Aten Dagger Amethyst
Aten Dagger Garnet
Aten Dagger Jade
Aten Dagger Gold
Aten Dagger Turquoise
Aten Dagger Lapis
Aten Double Dagger Sundisk Off
Aten Dagger Dagger Sundisk On
Aten Dagger Dagger Onyx
Aten Dagger Dagger Amethyst
Aten Dagger Dagger Garnet
Aten Dagger Dagger Jade
Aten Dagger Dagger Gold
Aten Dagger Dagger Turquoise
Aten Dagger Dagger Lapis
Aten Shield Sundisk Off
Aten Shield Sundisk On
Aten Shield Onyx
Aten Shield Amethyst
Aten Shield Garnet
Aten Shield Jade
Aten Shield Gold
Aten Shield Turquoise
Aten Shield Lapis
Aten Spear Onyx
Aten Spear Amethyst
Aten Spear Garnet
Aten Spear Jade
Aten Spear Gold
Aten Spear Turquoise
Aten Spear Lapis
Aten Sword Sundisk Off
Aten Sword Sundisk On
Aten Sword Onyx
Aten Sword Amethyst
Aten Sword Garnet
Aten Sword Jade
Aten Sword Gold
Aten Sword Turquoise
Aten Sword Lapis
Textures Include:
78 Texture, Bump, Displacement, Metallic, and Normal Maps (4096 x 4096)
Daz Studio Iray Material Presets (.DUF)
---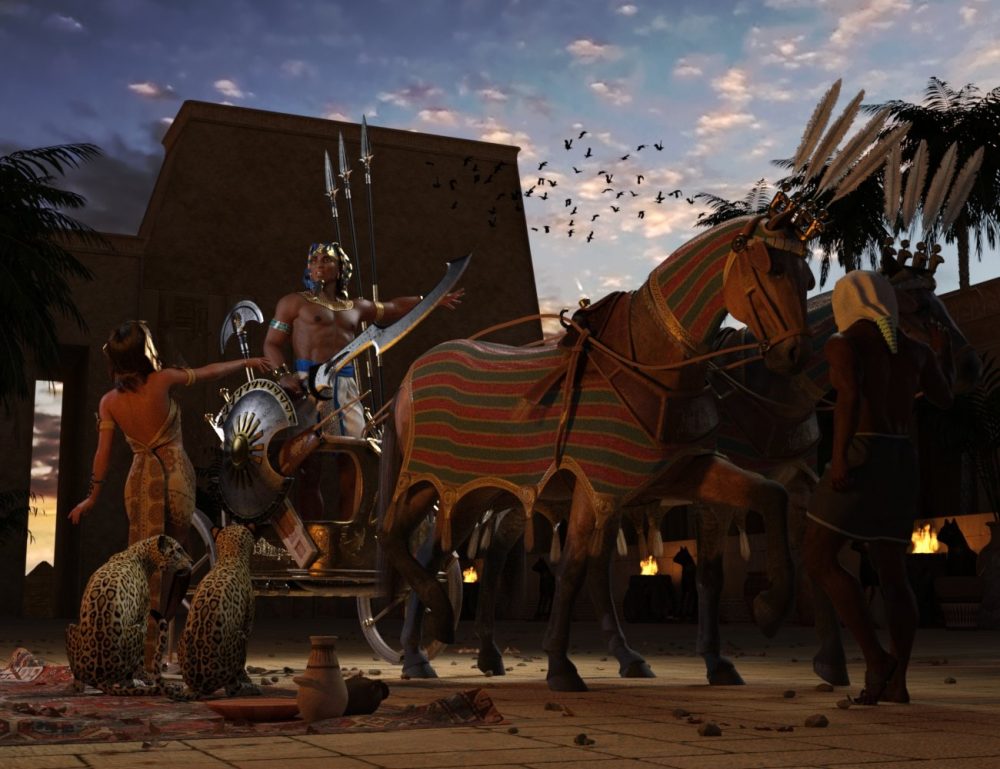 Download from QtyFiles Service
---