dForce Capsule Wardrobe 02 for Genesis 9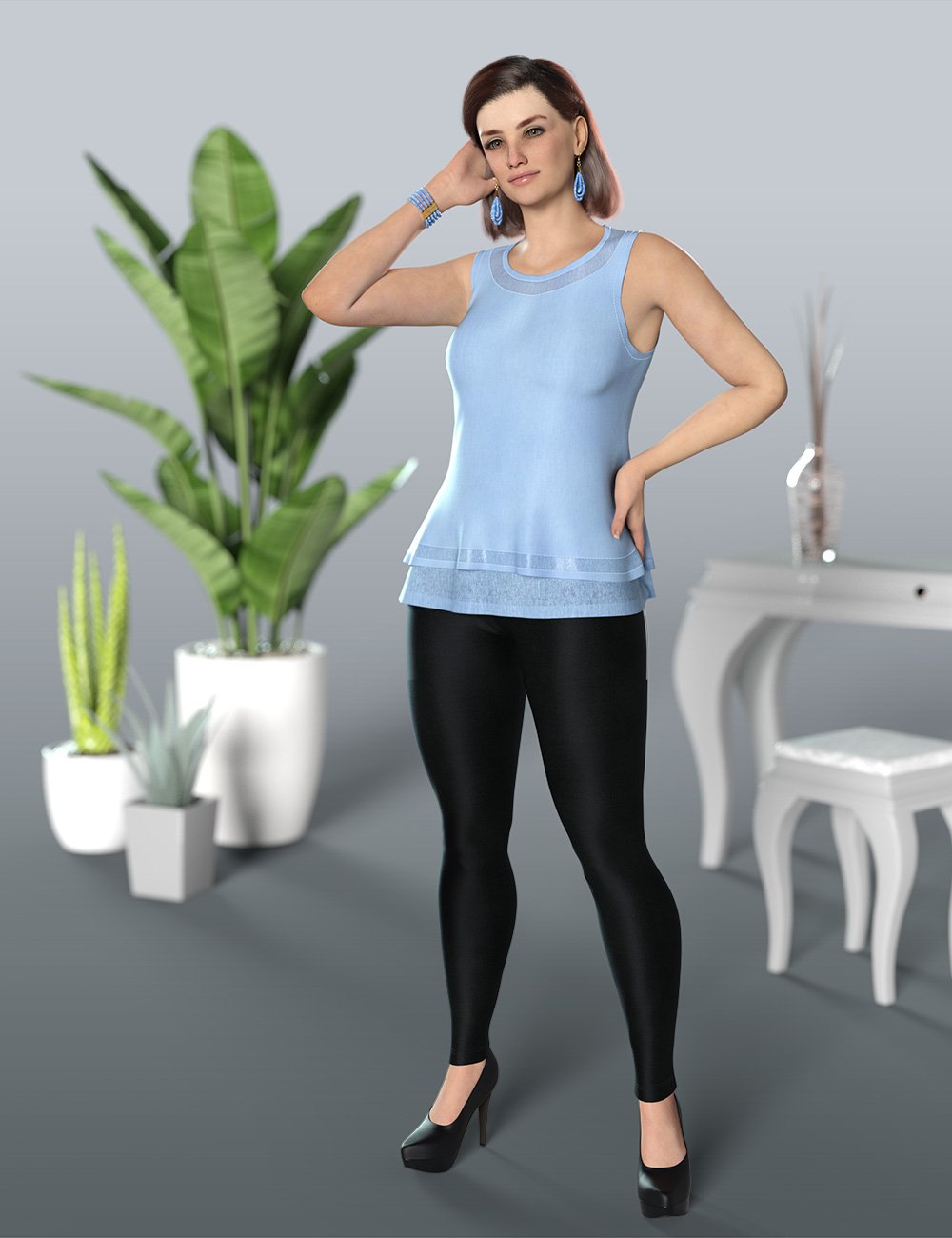 A capsule wardrobe is a collection of clothes that can be combined in different ways.
The sets in this series are made to be combined with each other and even with other products by other content creators.
Each piece of clothing features an extensive range of Tweak morphs so it can be adjusted to different figure shapes or clothing items.
dForce Capsule Wardrobe 02 for Genesis 9 features a casual yet elegant look: a peplum top, leggings, and platform high-heels. The peplum top has several length and width options, so it can turn it from a short top into a minidress, the bottom layer can be switched off, and it also features a tuck morph that works with the jeans from Capsule Wardrobe 01.
All items (except the shoes) are set up for dForce, but can also be used without running a simulation.
This set comes with 2 textures for each item, and there is also a texture add-on available.
Expand your capsule wardrobe for Genesis 9 now and collect them all!
dForce Capsule Wardrobe 02 for Genesis 9: (.DUF)
dForce Capsule Wardrobe 02 Outfit Preset
Peplum Top:
Style Morphs:
Bottom Layer Length
Bottom Layer Wide
Top Layer Length
Top Layer Wide
Smooth Cleavage
Fit over Pants
Hide Bottom Layer
Tuck into Jeans (to be used with Capsule Wardrobe 01)
Adjustment Morphs:
Expand All
Loosen Buttocks
Loosen Midriff
Loosen Sleeve Short
Loosen Waist Lower
Loosen Waist Upper
Tweak Fit Morphs:
Abdomen Lower Back Center
Abdomen Lower Back Left
Abdomen Lower Back Right
Abdomen Lower Front Center
Abdomen Lower Front Left
Abdomen Lower Front Right
Abdomen Lower Side Left
Abdomen Lower Side RIght
Abdomen Upper Back Center
Abdomen Upper Back Left
Abdomen Upper Back Right
Abdomen Upper Front Center
Abdomen Upper Front Left
Abdomen Upper Front Right
Abdomen Upper Side Left
Abdomen Upper Side Right
Breast Center
Breasts Lower
Breasts Side
Breasts Upper
Breasts
Chest Front
Chest Upper Front
Collar Back Center
Collar Back Left
Collar Back Right
Collar Front Center
Collar Front Left
Collar Front Right
Collar Side Left
Collar Side Right
Shoulder Back Left
Shoulder Back Right
Shoulder Front Left
Shoulder Front Right
Shoulder Side Left
Shoulder Side Right
Shoulderblades Center
Shoulderblades
Leggings:
Style Morphs:
Waist Tight
Adjustment Morphs:
Tweak Fit Morphs:
Ankles Back
Ankles Front
Ankles Inside
Ankles Outside
Below Knees Back
Below Knees Front#
Below Knees Inside
Below Knees Outside
Buttock Left
Buttock Right
Buttocks Center
Crotch Back
Crotch Between Legs
Crotch Front Bottom
Crotch Front Center
Crotch Front Left
Crotch Front Right
Hip Back Center
Hip Back Left
Hip Back Right
Hip Front Center
Hip Front Left
Hip Front Right
Hip Side Left
Hip Side Right
Knees Back
Knees Front
Knees Inside
Knees Outside
Lower Leg Back
Lower Leg Front
Lower Leg Inside
Lower Legs Back
Lower Legs Front
Lower Legs Inside
Lower Legs Outside
Thighs Lower Back
Thighs Lower Front
Thighs Lower Inside
Thighs Lower Outside
Thighs Upper Back
Thighs Upper Front
Thighs Upper Inside
Thighs Upper Outside
Waist Back Center
Waist Back Left
Waist Back Right
Waist Front Center
Waist Front Left
Waist Front Right
Waist Side Left
Waist Side Right
Platform High-Heels:
Adjustment Morphs:
Expand All
Tweak Fit Morphs:
Foot Inside
Foot Outside
Forefoot Inside
Forefoot Outside
Forefoot Top
Heel Back
Heel Inside
Heel Outside
Heel Upper Back
Heel Upper Inside
Heel Upper Outside
Instep Inside
Instep Outside
Instep Top
Sole Back Heel
Sole Back Inside
Sole Back Outside
Sole Center Inside
Sole Center Outside
Sole Front Inside
Sole Front Outside
Sole Front Toes
Sole Length
Sole Width
Soles Thickness
Toes Front
Toes Inside
Toes Outside
Toes Top
Supported Shapes:
Feminine
Masculine
Victoria 9
Emaciated
Fitness Details
Fitness Mass
Heavy
Lithe
Mass Body
Muscular Details
Muscular Mass
Older
Pear Figure
Thin
Voluptuous
Breasts Cleavage
Breasts Diameter
Breasts Fullness Lower
Breasts Gone
Breasts Heavy
Breasts Large
Breasts Large High
Breasts Natural
Breasts PerkSide
Breasts Shape01
Breasts Shape02
Breasts Shape03
Breasts Shape04
Breasts Shape05
Breasts Shape06
Breasts SidesDepth
Breasts Small
Other Shapes may be supported in Daz Studio by Auto-follow
Materials:
High Heels Black
High Heels Gray
Peplum Top Blue
Peplum Top Gray
Leggings Animal Print
Leggings Black
Utilities:
Hierarchical Foot Pose for Platform Heels
dForce Activate
dForce Freeze
Simulate Along Timeline
Simulate Current Frame
Simulation Start from Memorized Pose On
Simulation Start from Memorized Pose Off
Smoothing Off
Smoothing On
User Guide
Textures Include:
21 Texture, Normal, Roughness, and Transparency Maps (4096 x 4096)
Daz Studio Iray Material Presets (.DUF)
---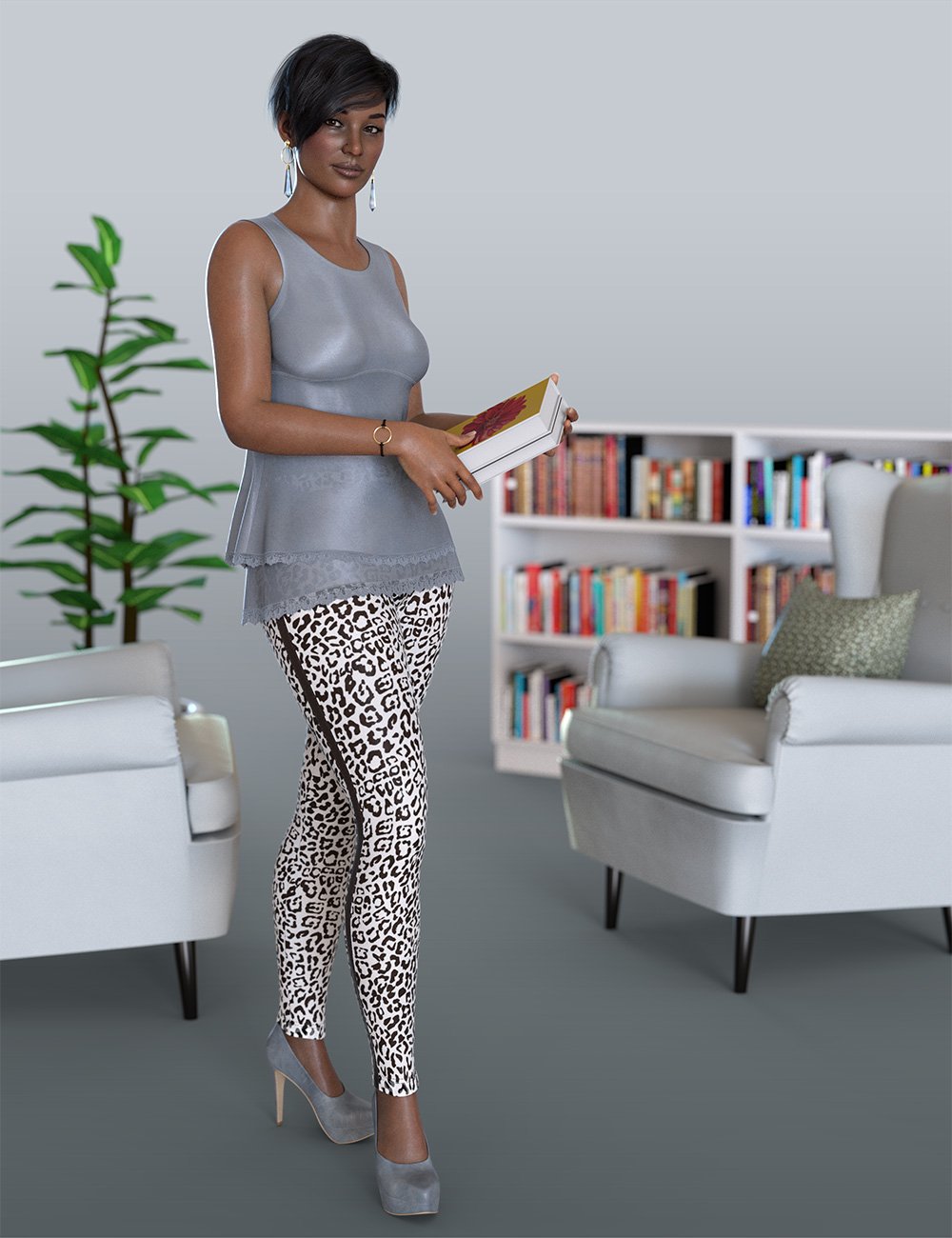 Download from QtyFiles Service
---