Mystic Circlets For Any Figure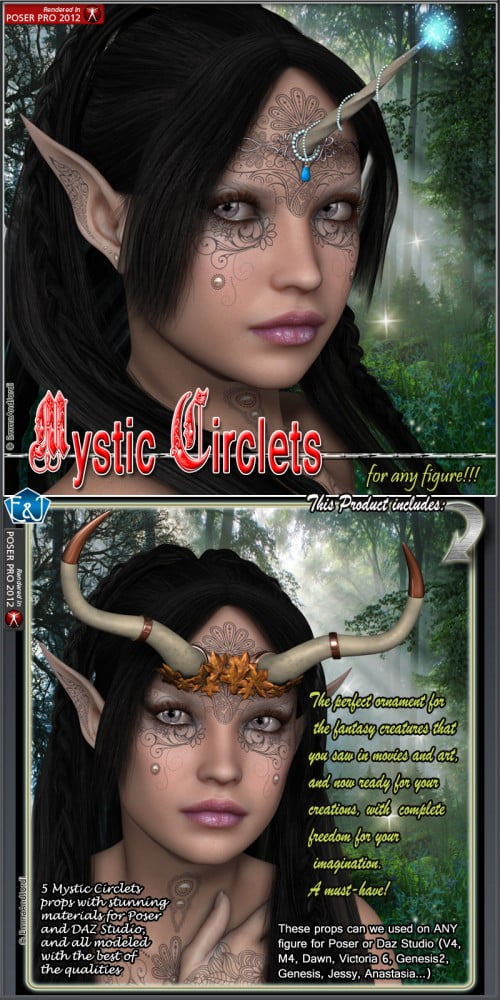 We have studied deeply what we needed to do this product as versatile and simple to use as possible, and we have designed a jewelry pack that can we used on ANY figure for Poser or Daz Studio. Using the morphs included and if needed the translation and rotation dials, in our tests we could easily put it on: V4, Dawn, Victoria 6, Genesis 2 Female, The Girl 6, Genesis 1, Anastasia, Mavka, Kiki, Kids 4, Michael 4, Aiko 4. By default it comes sized to V4, and for Victoria 6 and Genesis 2 Female you just have to move a little upwards.
This Pack includes:
– 5 props of Mystic Circlets that can be used in ANY figure
– They follow the movement of the head (smartprops)
– Stunning materials for Poser and DAZ Studio, and all modeled with the best of the qualities
– Autoload of materials for Daz Studio 4.6
– Real unicorn glow made with Poser materials/Daz Studio shaders. What you see in the promos is NOT postwork!
– HeadSize morph shapes the circlet to bigger or smaller heads
– BigRoundHead morph is for heads of toon shape like Girl 6, Mavka, Aiko, Kiki…
– Use both morphs plus the translate and rotate dials to fit it to any figure
– Render settings and instructions in JPG to enter them for Poser and Daz Studio
DESIGNS DESCRIPTIONS:
– Aine: The celtic goddess of the moon, Aine, brings you her powers in a moonray between the carefully modeled leaves! In silver with pink, green, or blue jewels, or in gold with red or black jewels
– Ataegina: Brings the magic to defend the land of the mighty warriors, a horned circlet with modeled rings and leaves worth of being in the most professional ilustrations. In natural horn mat with brown leaves and copper
metal, all silver with rings and points in relief, all gold with reliefs, or natural horns with green leaves
– Belisama: The horns of the deer goddess, and the pentagram that invokes the magic of the ancients! In silver, bronze, and two shades of gold
– Kaduceus: Has the power to heal and to save, two snakes interweaved over the staff, and wings over them. In silver with pink or blue jewels, or gold with red or green, and bronze with black diamond
– Lady Unicorn: Worn by the Daughter Of The Unicorn, with real (NO POSTWORK) sparkling glow! All partials for gold or silver metals; and pink, blue or white pearls; blue, pink, or yellow sparkles; and blue, green, pink
or red tear jewels
Poser 6 and up, or DS3 and up.
These props work on any human figure.
PC Compatible. Not tested in Mac.
Complete list of morphs: (in all of them) BigRoundHead, HeadSize

---