Scheherazade's Arabian Nights Bundle DS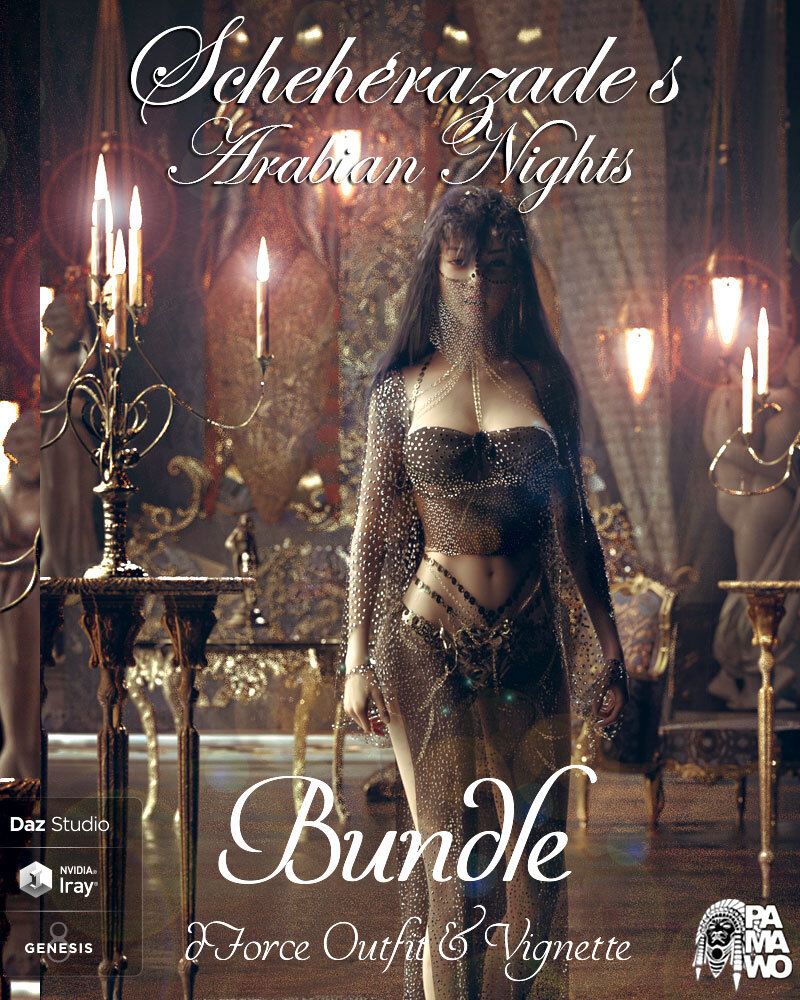 ---
Scheherazade's Arabian Nights Bundle DS
One Thousand and One Nights is a collection of Middle Eastern folk tales compiled in Arabic during the Islamic Golden Age.
The main frame story concerns Shahryār whom the narrator calls a "Sasanian king" ruling in "India and China."
Shahryār is shocked to learn his own wife's infidelity , he has her killed.
In his bitterness and grief, he decides that all women are the same. Shahryār begins to marry a succession of virgins only to execute each one the next morning, before she has a chance to dishonor him.
Eventually the Vizier, whose duty it is to provide them, cannot find any more virgins. Scheherazade, the vizier's daughter, offers herself as the next bride and her father reluctantly agrees. On the night of their marriage, Scheherazade begins to tell the king a tale, but does not end it. The king, curious about how the story ends, is thus forced to postpone her execution to hear the conclusion. The next night, as soon as she finishes the tale, she begins another one. And the king, eager to hear the conclusion of that tale as well, postpones her execution once again. This goes on for one thousand and one nights, hence the name.
The tales vary widely: they include historical tales, love stories, tragedies, comedies, poems, burlesques, and various forms of erotica.
At the end, with the king giving his wife Scheherazade a pardon and sparing her life.
The work was collected over many centuries by various authors, translators, and scholars across West, Central and South Asia, and North Africa. Some tales trace their roots back to ancient and medieval Arabic, Egyptian, Sanskrit, Persian, and Mesopotamian literature.
Many tales were originally folk stories from the Abbasid and Mamluk eras, while others, especially the frame story, are most probably drawn from the Persian work which in turn relied partly on Indian elements.
It is with this richness of mixing genres and cultures, that I offer you my own vision of what Scheherazade's outfit can be.
You will find influences in turn, Baroque, Byzantine, Chinese, Egyptian, Greco-Roman, Indian, Japan, Moorish, Mesopotamia, Neoclassical, Renaissance, Romanesque thus conferring a genre close to Heroic Fantasy.
I'm sure you'll find wider use for your scene.
This dForce Outfit is composed of 9 elements and 19 textures.
This set is composed of 30 elements (props and scene set) allowing you to build various and varied decorations.
Background, Hair, Character on images are NOT included!
Presets (.DUF)
SAN Curtain Set.duf
SAN Bedroom Set.duf
SAN Floor.duf
SAN Ground Bedroom.duf
SAN Wall 01.duf
SAN Wall 02.duf
Props
SAN Armchair.duf
SAN Bed Frame.duf
SAN Candlestick.duf
SAN Chandelier.duf
SAN Console.duf
SAN dForce Mattress.duf
SAN dForce Pillow 01.duf
SAN dForce Pillow 02.duf
SAN dForce Pillow 03.duf
SAN dForce Sheet 01.duf
SAN dForce Sheet 02.duf
SAN dForce Sheet 03.duf
SAN Frame 01.duf
SAN Frame 02.duf
SAN Frame 03.duf
SAN Frame 04.duf
SAN Mirror 01.duf
SAN Mirror 02.duf
SAN Pedestal Table.duf
SAN Sofa.duf
SAN Statue 01.duf
SAN Statue 02.duf
SAN Statuette 01.duf
SAN Statuette 02.duf
SAN Stool.duf
SAN Wall Hanging.duf
Wearables (.DUF)
SAN Bra.duf
SAN Bustier.duf
SAN Head Jewelry Chain.duf
SAN Mask.duf
SAN Outfit.duf
FBMExpandAll
pJCMThighSide_85_L
pJCMThighSide_85_R
SAN Pantie.duf
FBMExpandAll
pJCMThighSide_85_L
pJCMThighSide_85_R
SAN Shoulders Jewelry Chain.duf
SAN Skirt.duf
SAN Sleeves.duf
SAN Thigh Jewelry Chain.duf
Materials Iray (.DUF)
SAN Armchair.duf
SAN Bed Frame.duf
SAN Candlestick.duf
SAN Chandelier.duf
SAN Console.duf
SAN dForce Curtain.duf
SAN dForce Mattress.duf
SAN dForce Pillow 01.duf
SAN dForce Pillow 02.duf
SAN dForce Pillow 03.duf
SAN dForce Sheet 01.duf
SAN dForce Sheet 02.duf
SAN dForce Sheet 03.duf
SAN Floor.duf
SAN Frame 01.duf
SAN Frame 02.duf
SAN Frame 03.duf
SAN Frame 04.duf
SAN Ground Bedroom.duf
SAN Mirror 01.duf
SAN Mirror 02.duf
SAN Pedestal Table.duf
SAN Sofa.duf
SAN Statue 01.duf
SAN Statue 02.duf
SAN Statuette 01.duf
SAN Statuette 02.duf
SAN Stool.duf
SAN Wall 01.duf
SAN Wall 02.duf
SAN Wall Hanging.duf
Materials Iray (.DUF)
SAN Bra 01.duf
SAN Bra 02.duf
SAN Bra 03.duf
SAN Bustier 01.duf
SAN Bustier 02.duf
SAN Head Jewelry Chain.duf
SAN Mask 01.duf
SAN Mask 02.duf
SAN Pantie 01.duf
SAN Pantie 02.duf
SAN Pantie 03.duf
SAN Shoulders Jewelry Chain.duf
SAN Skirt 01.duf
SAN Skirt 02.duf
SAN Skirt 03.duf
SAN Sleeves 01.duf
SAN Sleeves 02.duf
SAN Sleeves 03.duf
SAN Thigh Jewelry Chain.duf
Textures Include:
260 Texturemaps (.png) for Height, Roughness, Transparency (1024 x 1021 to 4096 x 4096)
42 Texturemaps (.png) for Height, Roughness, Transparency (4096 x 4096 to 4096 x 4096)
---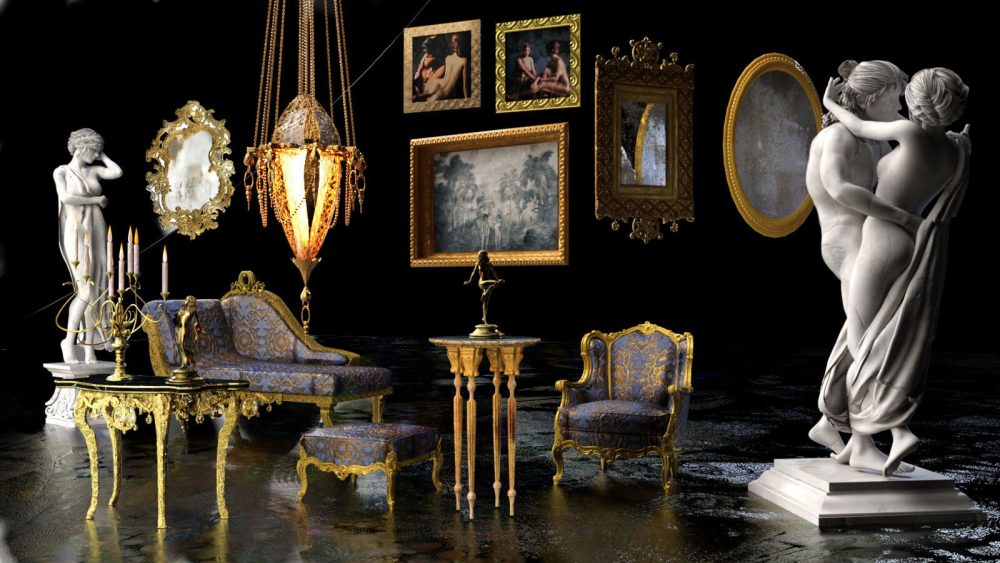 Download from QtyFiles Service
---